Bill acceptor with stacker
Vantage, with features industry-leading and innovative technologies, has been specifically designed to maximize your profits.
Advanced system of reading and note-calibration sensor to guarantee a top-level acceptance and fraud protection
The elegant bezel, via light signal, helps the customer to make the payment and communicates in real time the acceptance of the bill.
Centric drive technology compensates for skewed bill insertions, ensuring, highest first time acceptance
The quick release of the front plate for quick installation and removal, improves access to the reader and reduces the cost of service and maintenance
Three levels of security and anti fishing for greater resistance to the attempts of fraud.
Pulsed light signals attract the attention of new customers
Bezel illuminated at 360° facilitates the insertion of the bill and helps the buyer in the purchase
Automated self-diagnostics ensures excellent performance and dramatically reduces any service calls
High security and protection against water
Stacker 300 notes (also available in versions with a higher capacity)
Accept banknotes from euro 5,00-10,00-20,00
Dimensions: height mm 224 x 113 mm width x depth mm 72 (excluding front plate) with 300 banknotes
Weight 1,81 kg
MDB communication protocol pulse, parallel, serial,
Power supply 24VAC, 110VAC, 34VDC
Operating temperature -18 ° C to +65 ° C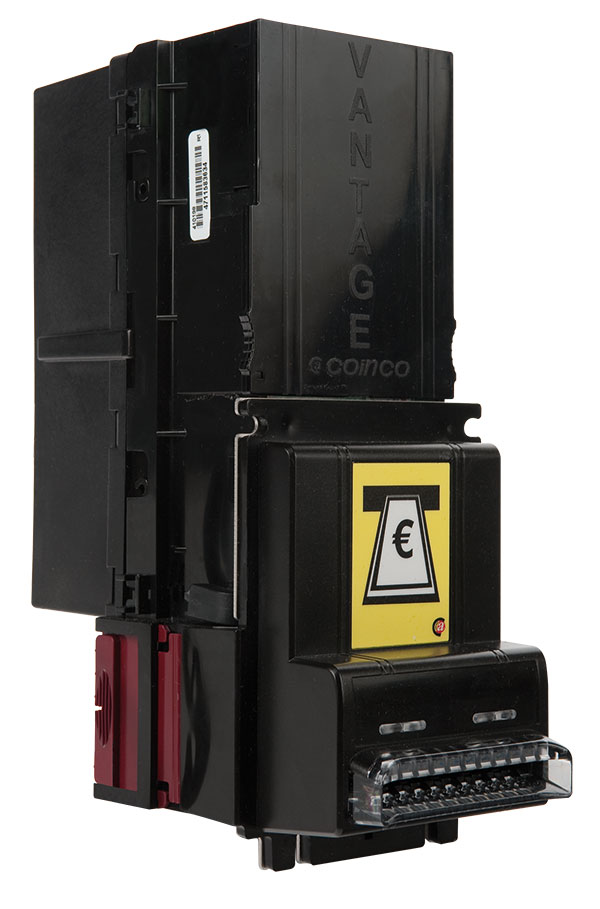 Coupons, with security coding, for promotions and management of free vend. The coupon, with customizable area (advertising), becomes an instrument of marketing communication.
This post is also available in: Italian