Vending Machine touch screen for external use
DS40 is a multimedia machine that, in addition to guide the customer during the use, allows to play advertising video recordable directly from the tobacco shop.
This feature allows to advertise your business, the scratch and win winnings happened in your tobacco shop, to advertise other local business …. P
ossibilities are limitless. With DS40 machine is also possible to sell rolling tobacco, Toscanelli cigars, cigarettes papers, etc… Due to its particular robustness it can be placed on an external wall without a base, or in a cabinet or behind a gate-door, in total security.
Structure with anti-erosion treatment and finishing with epoxy resin paint for external use
Restreined size with a depth of only 440mm
Front panel with backlit "T"
40 adjustable selections (approximate capacity: 750 cigarettes boxes with size 8.5×5.5x2mm)
Touch screen
Vandal-proof coin inserting unit
Coin changer 6 tubes auto-rechargable, with level control on each tube
Banknotes reader with stacker and anti-repackaging (from 5 to 20€.)
Printer Alarm
Security lock
Front and back opening
Front and back Products loading
Coin change supplier (to 2 coins)
Touch screen monitor 21'' Full HD1080p wide screen high brightness with back-support in anti-breach inox steel
Cooling system Air Flow Channeled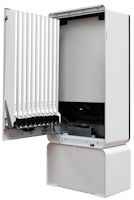 Multiple Lever Lock system anti-drilling system with automatic burglar alarm
SMART PRINTER with LED signal
Buffer auto-rechargeable battery that allows to end the operations in progress in case of no-electricity
Product Exit in steel with double garage front door  external frame and internal LED illuminated exit with fixed or flashing lights program
anti-fishing banknotes reader
Vandal-proof coin inserting unit
Selected Vandal-proof entry
Base with anti-rollover device for difficult floors
This post is also available in: Italian