Available both in free-standing version and build-in version
LEADING-EDGE AND TECHNOLOGICAL
High-resolution LCD graphic display for outdoor use
Possibility of displaying advertising messages
Greater simplicity during programming
Enhanced customer information
Up to 4 different languages can be selected (English, French, German and Italian)
A receipt can be requested
Possibility of promotions.
PAYKEY – PAYCARD for customer fidelity
Up to 4 different coins for change can be managed
Configuration and firmware update through USB or remote
Internal modem for remote troubleshooting (optional).
Interior Modem for tele-diagnosis of breakdowns and daily summary of the sell data (optional)*.
2 functions in a single machine: activator of the functionality of the washing, coin-changer for the use of vacuums, etc.
*With PAYPOINT, from remote control, You can:
Check the status of the banknote reader, coin acceptor and change dispenser hoppers
Check machine configuration
Reset all the machine boards
Transmit configurations, such as price updates and promotions,
Receive theft alarms
Receive no product, no change and jamming alarms
Check sales and bookkeeping
APPEAL
Multicolour LED pattern enhances visibility and recognisability
The design of PAYPOINT is easy to customise
SECURE
Structure in painted stainless steel AISI 304
Service selection with vandal-proof buttons
Security closing with 2 locks with 8 closing points
Anti-tear security hinges
Dual security lock (padlock included)
Vandal-proof coin insertion
Banknote reader with smart protection port, opening block and delayed automatic closing
Anti-theft system with independent siren in case of attempted theft
Anti-theft system with alarm that can be connected to the service area
8 Selections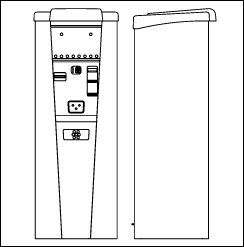 Technical Features – PAYPOINT Free-Standing
Positioned in service and carwash stations, the free-standing PAY POINT provides all the required services very easily and quickly.
CARWASH SERVICE
PAY POINT has been designed to optimise the carwash process by minimising waiting and service selection times.
WIDTH: 650 mm x HEIGHT: 1785 mm x DEPTH: 640 mm
Technical Features – PAYPOINT Build-in version
SIZE BUILD-IN HOLE VERSION
WIDTH: 407 mm x HEIGHT: 706 mm x DEPTH: 470 mm
This post is also available in: Italian